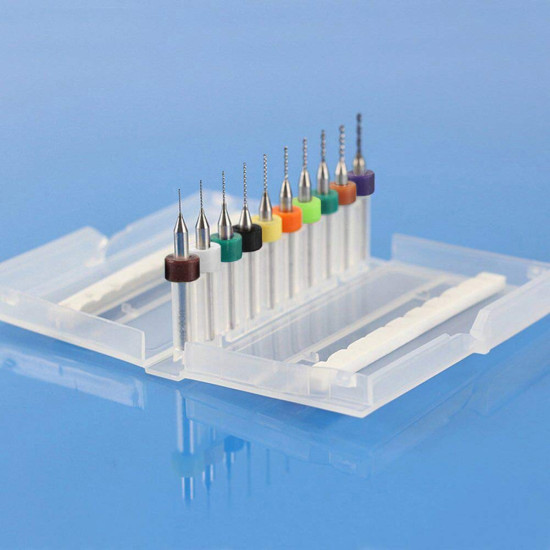 Hot


10 Pcs 1.1mm-2.0mm Tungsten Carbide Macro Drill Bits Set, PCB Drill Bit Set, 3mm Shank for Print Circuit Board, Amber, Beeswax, Rough Stone, Dremel, Jewelry, CNC Punching Engraving
Features:
Cutting Edge Diameter (CED): 1.1mm, 1.2mm, 1.3mm, 1.4mm, 1.5mm, 1.6mm, 1.7mm, 1.8mm, 1.9mm, 2.0mm
Cutting Edge Length: 10mm
Shank Diameter: 3mm / 1/8" (approx.)
Overall Length: 38mm / 1-1/2" (approx.)
Cutting Edge Material: Tungsten Carbide
Shank Material: HSS (High Speed Steel)
Package Included:
1 Set (10 Pcs) x PCB Drill Bits with Protection Box
Description:
1. Long Tool Life: With high hardness, high wear resistance, high strength, resistance to bending, anti-impairment. Long-lasting bits are made from Tungsten Carbide for precise, easy experience.
2. Spiral Flute Bits: Tip spiral flute drill bits with shaper cutting edge, reduce cutting force and prevent drill broken, improve the drilling accuracy.
3. High Precision: With sharp cutting edge, milling groove and clean surface, these sets of tool work quickly and cleanly, no glitches or scrap left.
4. Great Use: Great for PC Boards, Plastics, Fiberglass, Wood, Soft Metals. Fit for: PCB drilling machines, engraving machine, CNC and high precision special drilling equipment.
5. Good Replacements: Carbide PCB Drill Bits replace your CNC machines and any hand held tool. Large drill bit chip space, chip resistance, chip smooth, small drilling heat.

Stock:

In Stock

Model:

PCB Drill 1.1-2.0mm

Weight:

85.00g