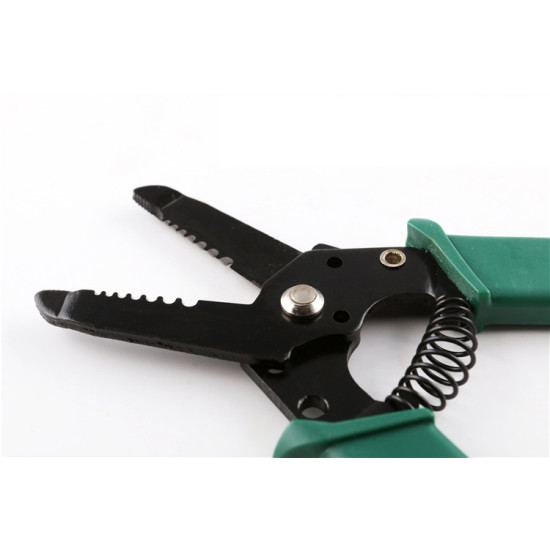 10-22 AWG Plate type Ratcheting Crimping Plier Insulated Size 7 Inch Wire Stripper Cutter Multi-Function Hand Tool for Electrician
Crimpers are essential tools to have in the house as you need them in most electrical fitting jobs. This manual crimper helps you cut wires and strip the insulation for connecting to a socket or installing a new lighting system. You can also use this tool for clean shearing screws and bolts. Whether it is installing new cable connections or repairing worn-out wires this tool will help you complete them with ease.
1. For stripping wire from AWG24-10(0.2~6.0mm²)
2. For cutting and stripping wire and cable
3. For crimping insulated and non-insulated terminals.
4. For insulated terminals 10-22AW (0.5-6.00mm)
5. For non-insulated terminals 12-10AWG (4.0-6.0mm) 22-14AWG (0.5-2.5mm)
6. For auto ignition terminals 7-8mm.
Blade Material: SS41
Handel: ABS+TPR
Blade hardness (HRC): 52° – 57°
Hardness: Body hardness: HRC88°- 90°
Cut hardness: HRC55° – 60°
Stock:

In Stock

Model:

7 Inch Wire Stripper

Weight:

225.00g
Hanbon