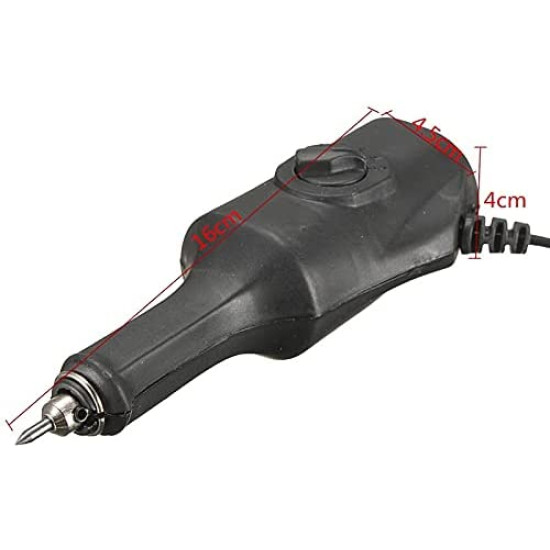 Best Seller
Electrical Carving And Marking Pen 5 Speeds Metal Jewelry Glass Carving Marker Engraver Tool 220V 50Hz
Specification -
Color: Black
Material: Plastic Body + Tungsten Pen Head
Power: 25W
Rated Voltage: 220V
No-load Speed: 800rpm
Features:
1. Small and exquisite, light weight, easy to carry, fast and convenient to use
2. It can be engraved on almost all materials such as metal, ceramic, wood, plastic, glass, stone, cement, bamboo, etc.
3. Suitable for professionals, DIY creation, gap removal, staining, etc.
4. Tungsten pen head, high hardness, wear resistance, strength and toughness
5. Five-speed speed control to meet different work needs
6. Back cover independent switch, safe and convenient to use
Instructions:-
Slightly tilt an angle (about 45°) like a pen, and put your hand on the table. Don't press it hard when you are engraving. It is slower than the normal writing speed. You can adjust the writing stroke by adjusting the gear position.
Master its performance through repeated iterations to meet the font size and depth requirements of writing different materials.
Precautions:-
Continuous work should not exceed 30 minutes, so as not to damage the coil. Intermittent use can ensure the life of the body. When the shell is hot, it should be cooled and used. Please turn off the working power when not in use!
Stock:

In Stock

Model:

Electric Engraving Tool

Weight:

375.00g

GSK Cut