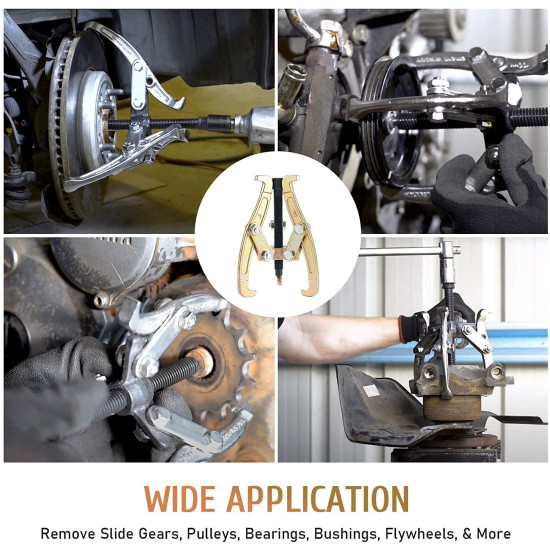 New


3 Jaw Gear Puller 6" inch ¨C Gear Removal Tool for Slide Gears, Pulley, and Flywheel
Description:
6inch puller is the perfect tool for gears, hubs, bearings, pulleys and other parts removal
It is made of heat treated drop forged steel, sturdy and durable in use
With high strength bolts and reversible jaws for internal and external applications.
Specifications:
Material: Drop Forged Steel
Puller Maximum Depth: 15cm
Package Weight: Approx. 1.4kg
Notes:
1. When using the puller, the jacking force should not exceed the stipulated force in the table,
Vertical contact to the hook in order to avoid tilt and damage the puller bolts by uneven force.
If the parts size excess, please choice an appropriate puller. Apply anti-rust oil after use, and ensure the future use.
· This 3-jaw removal tool set works with your wrench, ratchet, or spanner as a gear puller, sprocket puller, bearing puller, pulley puller, flywheel puller and more, removing even rusted parts easily
· This professional tool kit includes puller size 6 inch with a 4.7" reach and 6" max. Spread;
· 3-jaw gear and bearing pullers can be reversed to pull parts from the inside or outside
· All parts are made with premium heat-treated 45# carbon steel for maximum strength. The jaws are galvanized and the central screw coated with black oxide to provide superior corrosion resistance and long service life
Stock:

In Stock

Model:

Bearing Puller

Weight:

1.50kg
GSK Cut