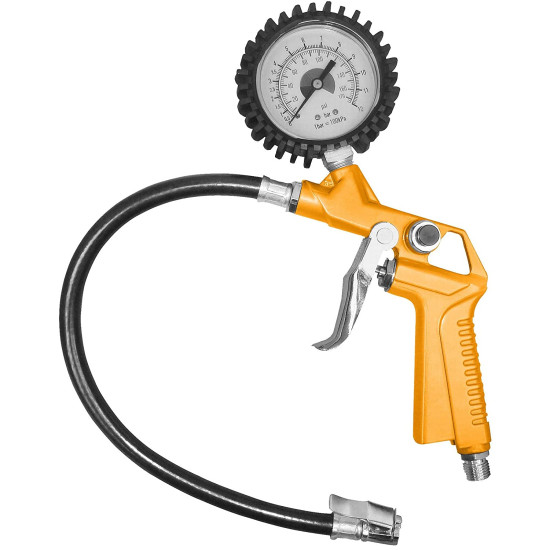 New
Tire Inflator with Pressure Gauge - 123 PSI, Tire Inflation Gun with Large Gauge Dial - 2.5 inches, Heavy Duty Air Locking Chuck & Deflator, Flexible Rubber Hose for Motors, Cars & Bikes
Tire inflator gauge makes filling tires extremely easy when using an air compressor.
Instead of filling a tire, check the pressure, adjusting, checking, and repeating over and over again, simply fill the tire to the exact pressure you want.
Fill a tire to specification twice as quickly or even faster by using fewer instruments. Save time and just fill it right the first time.
Features:
Check Pressure: The air pressure gauge can also check the tire pressure with ease. Deflate Tires:
Built-in air bleeder valve to quickly decrease pressure in over inflated tires. Decreasing the likelihood of flats, explosions, and crashes.
Highly Compatible: The included quick connect fitting will fit most air compressors with ease.
Versatile Use: Compatible with almost all air compressors, and all Schrader valves. Leak-Free Installation
· 12" heavy duty rubber hose with clip-on connector for hands free operation. - 63.5mm diameter easy to read pressure gauge displays pressure in psi (0-174psi) & bar (0-12 bar) - Rubber covers around pressure gauge to protect it against damage.
· Comfort grip durable plastic body. - Non-slip sleeve on trigger. - Gauge has protective rubber cover.
· Pressure Range - 0-174 Psi, 0-12 Bar, 0-1200 kPa Rated Pressure - ≥150psi Maximum Pressure - 320psi Gauge Diameter – 63.5mm Hose Length – 350mm /13.8" Air Inlet Tube Connector Dia - 6.3mm / 1/4"
· Wide Use: Tire Inflator with gauge is compatible with all vehicles. Suitable for cars, trucks, SUVs, motorcycles, bicycles, off-roads, trailers or anything else that utilizes a Schrader valve. Air pressure is easy to read with large dial
· Package includes: 1x Tyre Inflating Gun
Stock:

In Stock

Model:

ATG0601

Weight:

0.42kg
Ingco