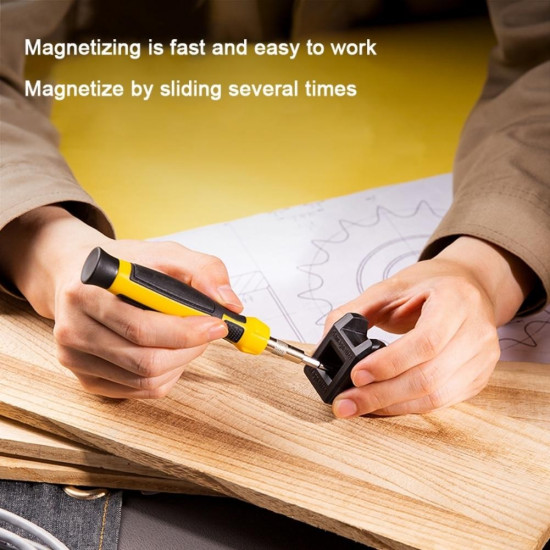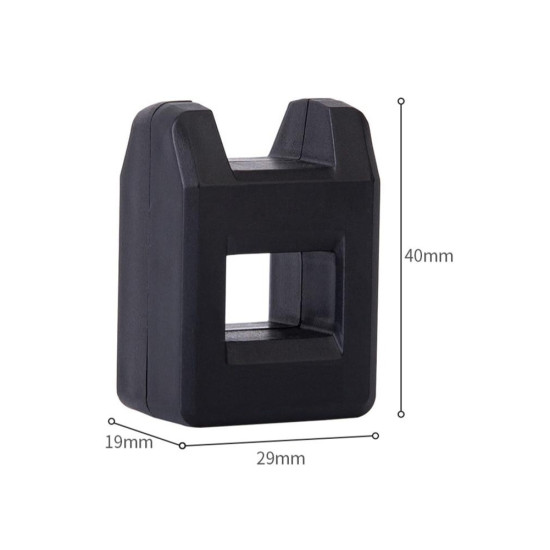 -5 %


Magnetizer Demagnetizer Tool for Screwdriver Bits Tips Screw Driver Drywall
Description:
Magnetize or demagnetize steel screwdriver bit, tweezers and similar tools.
plastic box , shock resistant, green and cadmium free.
Magnetize screw drivers, tweezers, tool bits and other steel objects as needed.
When your work is finished, use the demagnetizer to remove the magnetic field.
Also useful for demagnetizing tools before use on magnetically sensitive surfaces.
Features:

Product Name: Magnetizer Demagnetizer
Material: Plastic
Color: Black
Dimension: 28 x 18 x 40mm / 1.1" x 0.71" x 1.57"(L*W*H)
Center Hole Size: 16 x 11mm / 0.63" x 0.43"(L*W)


· To magnetize the tool, simply slide it through the center hole. To demagnetize the tool, slide it through the side slot, need to use electronic parts that need to be demagnetized, simply insert the tip of a screwdriver into the negative The tip of the screwdriver can be magnetized in the terminal cavity and inserted into the positive terminal cavity.
· The demagnetizer can quickly convert any tool blade into a magnetic retrieval tool, has a high power to weight ratio, and is contained in a non-fragile plastic.
· A magnetic recycler that converts any tool blade into screws, nuts and metal particles, which is ideal for degaussing tweezers, screwdrivers and other small tools, also magnetizes larger tools, reducing the possibility of the tool sliding off the screw head lowest.
· The demagnetizer's lightweight and compact design makes it very portable, fits in a tool bag, and is super easy to store in the workshop tool shed. Since it does not require a battery, it is more portable and ready to use.
· Not only for magnetizing and degaussing screwdrivers, this magnetizer is designed to be used with screwdrivers, nut drivers, wrenches, tweezers and other steel tools to minimize tools that slip off the screw head.
Stock:

In Stock

Model:

Magnetizer Demagnetizer Tool

Weight:

0.20kg

Dimensions:

20.00cm x 5.00cm x 15.00cm

GSK Cut